In some post earlier I mentioned that I went to the Roots of Heaven festival in Patronaat, Haarlem. Unfortunately that festival didn't turn out to be what I hoped for that evening, but to make things better that same concert ticket gave you free admittance for another concert a couple of weeks later: a show from Vetiver and Fruit Bats! Infact I was already planning to buy a ticket, so it was a nice freebie :)
Unbelievable that I would see Vetiver for the second time this year. When I first heard of them I was instantly hooked and I immediately placed them on my concert must-see wishlist. Little did I know it turned out to be that easy! That evening I was feeling a bit tired and lazy and was asking myself if I should go... Silly me, because it would be an awesome evening!
Fruit Bats
where the first to perform:
Wonderful show, and wow; singer Eric Johnson has such a great voice! I was really enjoying myself with their music. Infact, I heard their music for the first time the week before this concert. Their latest album 'The Ruminant Band' was released this year and received some
nice ratings
. After their show I went to the merchandise and found out they brought along all of their albums. Nice! When I was standing in front of the booth, the lady from the merchandise noticed my camera case. She asked me if I was taking pictures and we had a nice conversation. She happens to be a photographer too and shot a couple of shots of the show with a vintage analog camera. Place two photographers (although I wouldn't consider myself a photographer as I still have a long way to go) in one room and all hell break loose ;) Really a nice chat and I went back to the venue for the show of
Vetiver
. The last time I saw them was just
a couple of months ago
in the Paradiso, but I was still pretty excited!
The show from Vetiver was amazing! It's too bad there weren't a lot of people in the audience (I wonder why because the Patronaat has a truly impressive program), but Vetiver gave a wonderful performance and their music sounds so pure and beautiful.
I went back to the merchandise to bought some cd's (well, I bought all of the Fruit Bat's albums and one album from Vetiver I was missing in my collection). I found out that the lady from the marchandise is no less than
Alissa Anderson
! she's responsible for the picture used on the cover from Vetiver's album 'Thing of the past', which is one of my favorite pictures: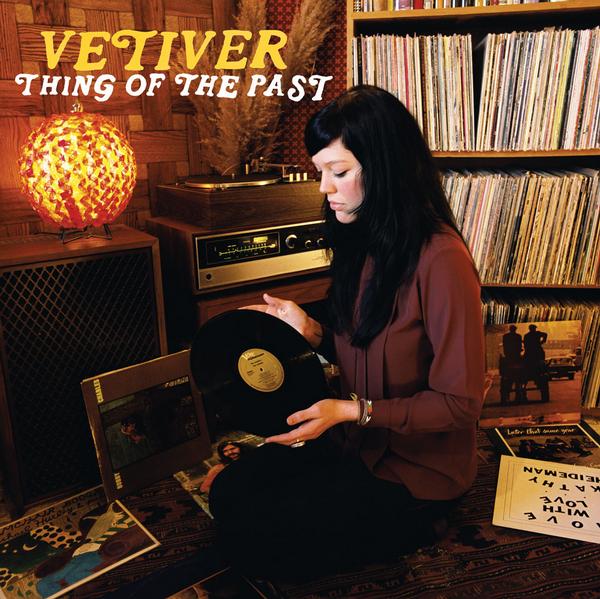 Not only did she shot this picture, but she's also the photographer of Joanna Newsom on her album 'The Milk-Eyed Mender' (and Joanna Newsom is a goddess). So have a look at
her site
with lots of amazing photos! What an inspirational person and I honestly feel privileged to have talked to her :) So in the end this regular Wednesday afternoon was something quite extraordinary!